페이지 정보
작성자
전파전파전파
댓글
0건
조회
22회
작성일

18-10-16 10:48
본문
 ▲나이지리아
Chinese Prostitutes Imported Into Nigeria
As much as cheap China gadgets have been made available to Nigerians, expensive teenage girls too have also been imported to satisfy the need shameful needs of big time spenders in the country. Sources have it that there is a Lagos home where Nigerian leaders, expatriates pay $1,000 for a round of sex with teenage Chinese girls.
The argument is why should our big time politicians engage themselves in such shameful act-using taxpayers money to sleep with imported teenage girls. They have from the onset made the prostitution business appealing to young Nigerian girls who are meant to have been engaged in life-changing projects and constructive deals. Taking up Chinese Teenage girls is not only immoral, but has brought a new dimension to the age long prostitution business.
http://www.informationnigeria.org/2012/06/chinese-prostitutes-imported-into-nigeria.html
- 나이지리아 공무원 10대중국녀와 -
13 teenage Chinese prostitutes arrested in an apartment in Ikeja, Lagos
On Emina Crescent, off Toyin Street, Ikeja, 13 teenage Chinese prostitutes have been arrested and detained by the Nigerian Immigration Service following a raid of their base.
The young girls were said to have been brought in for the sake of Politicians, business executives and expatriates to hire for sex at the cost of between $1,000 and $2,500. The dirty business was said to have been run by Sun and Yin Li.
The couple running the business, alongside the other girls are said to be in hiding now as only 13 girls were successfully picked up from the scene.
The arrest was confirmed by the NIS spokesman, Joachim Olumba, who said the girls are in their custody. He also said they are on the trail of the kingpin of the sex ring. And after investigations, they will either deport the girls or hand them over to their embassy here in Nigeria for appropriate actoin
http://www.informationnigeria.org/2012/08/13-teenage-chinese-prostitutes-arrested-in-an-apartment-in-ikeja-lagos.html
중국 10대 소녀들 나이지리아로 매춘 진출-
SEXPLOSION: How politicians, foreigners now pay $2,500 for sex with imported teenage Chinese girls in Lagos
"The girls are entitled to half of what they get from the men while our Master takes the remaining half, as return on his investments on them. The girls cannot afford to play smart because they don't understand English language, which is the language of many of the customers. He and his wife are also in control of their international passports and telephones. They help the girls to reply text messages sent to them in English by customers because the girls don't understand English, while the customers think they are chatting with the girls sometimes it is the Master and his wife that they are actually chatting with," the source disclosed.
http://dailypost.ng/2012/06/03/sexplosion-how-politicians-foreigners-now-pay-2500-for-sex-with-imported-teenage-chinese-girls-in-lagos/
http://www.zimd**ora.com/index.php?option=com_content&view=article&id=8603:chinese-prostitutes-invade-africa-by-storm&catid=38:travel-tips&Itemid=18
- 고객은 영어권 언어를쓰는 외국인이 주류 -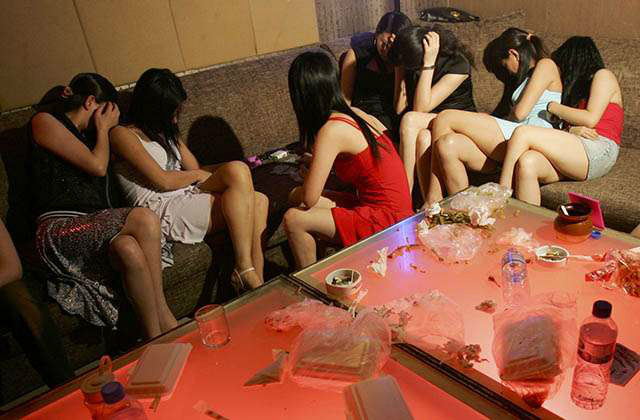 중국 10대소녀들이 나이지리아에 팔려와서  흑인 백인  상대